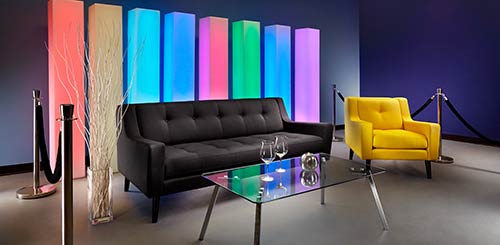 CUSTOM FURNITURE RENTAL FOR MEETINGS
TRADESHOWS, & SPECIAL EVENTS
Angles on Design is one of the original custom furniture rental companies in the United States. We offer a unique line of custom furniture rental for trade shows, meetings and events. Our focus on service, attention to detail, and the quality of our products, delivers an experience that lasts far beyond your event.
THE FINEST PRODUCTS

We search the world to bring the finest products to our clients. Whatever the atmosphere you desire for your space, we can help you achieve it. We'll assist as much or as little as you need.
See Our Complete Product Line >>
DESIGN SOLUTIONS

For Designers, 3D CAD drawings can aid in space planning. See products to download.
View our Photo Gallery for inspiration on ways our products can be used together.
View Gallery >>
RELATIONSHIP BASED SUCCESS
STAY CONNECTED!

For over 25 years, Angles on Design has made our customers the focus of our business. We work to create long lasting, positive relationships with our customers to better meet their needs.
Read More >>